Of all the things I miss about childhood (which is pretty much everything) scholastic book orders are pretty high up on the list.
So the other day when I got to order Mockingjay (the third book in the Hunger Games series by Suzanne Collins) via old school book order I got entirely too excited.
So you have to imagine how my face looked when I was informed that a week after ordering we'd be sent Mockingjay pins (ala Katniss).
Of course, I was imagining blocky little plastic pins the size of a quarter, reminiscent of the wings you'd get when you'd fly American Airlines.
But then I got this little number in the mail: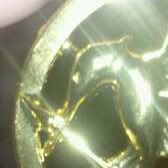 It was exactly how I'd always imagined it. Golden, larger than a silver dollar, and it has good weight to it.
Scholastic, you really pulled out all the stops this time. (Not to mention the whole order was only $13.00.)
So this just got me thinking, books are wonderful.
(understatement of the century)
I figured I'd diagram my new bookcase to talk for a second about the books I own, and the books I love (which can be mutually exclusive).
No. 1 -
Clay Aiken: How to Sing
- Don't worry, I don't own this book by choice. It was a white elephant party gift, and it exists merely to pad my bookcase. (There's actually a chapter entitled "When in Doubt, Hum!")
No. 2 -
Doctor Who
- I'm a HUGE Doctor Who fan, so my birthday one of my best friends got me this novel, which actually chronicles a random adventure of the Doctor, David Tennant style.
No. 3 -
Oxford Poetry Edition
- BIIIIIG book of poetry. I love poetry.
No. 4 -
The Twilight Series
- Except I'm mysteriously missing New Moon? Not good literature, but still fun stories. (Plus I was in the first movie)
No. 5 -
The complete works of William Shakespeare
- Also love Shakespeare. Going to Ashland this summer to hopefully see Hamlet.
No. 6 -
My Chuck Palahniuk Shrine
- One of my favorite authors. I would say
Rant
is his best, but it's on lend, so unfortunately it's not pictured in this photo.
No. 7 -
Scott Westerfeld
- All my John Green books are at home, so another sweet Nerdfighting writer. Still have to read Uglies, but Leviathan was sweet.
No. 8 - This isn't a book, but it's a sweet old clock.
Anyway, I have to go get ready for a trip to Seattle to see my friend's BFA design show. I'll probably edit this entry later.
If anyone is actually reading this blog, you should let me know. :D
(new blogs are always fun!)

Watching: Modern Family
Reading: The Picture of Dorian Gray
Listening: The Fray (still)